Products
Video Conferencing

Video conferencing is a telecommunication technology by which a live video conference can be conducted simultaneously at two or more locations.
Multi-point video conferencing differs from videophone calls in that it serves multiple people at multiple locations, whereas videophone calls serve individuals in a one-on-one communication.
Through video conferencing, people from any part of the world can communicate visually, as though they are in one room. The chief benefits of video conferencing are as follows
Improved communication
Enhanced productivity
Multi-point meetings/conferences across boundaries and time zones
Increased collaboration
Reduced travel expenses
Time-saving
Because of the number of advantages video conferencing offers, it has been adopted in several sectors, including education, business, media and medicine.
The major components required for video conferencing are
Video Input - Video Camera or Webcam
Video Output - Display device (computer monitor, television or projector)
Audio Input - Microphone
Audio Output - Speakers
Data Transfer - Analog/digital telephone network or Internet
Data Processing Unit - Computer

There are two types of video conferencing systems
Dedicated video conferencing systems
Dedicated systems have all the components of a video conferencing system integrated into a single equipment or a console, with a high quality PTZ camera. They are available for large group video conferencing (non-portable), small group video conferencing (non-portable) and individual video conferencing (portable).
Desktop-based video conferencing systems
These systems configure any computer into a video conferencing system using add-ons.
At Manasrekha, we offer a range of video conferencing products, including software solutions and peripherals from leading providers.
Manasrekha offers high quality video conferencing products of PeopleLink Corporate Solutions Ltd.
PEOPLELINK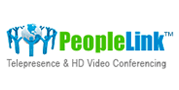 PeopleLink Corporate Solutions Pvt. Ltd. is one of the leading video conferencing solution providers in India, providing a range of high definition (HD) Audio and Video conferencing solutions.
Pioneers in HD multi-party video conferencing over converged IP networks, PeopleLink offers video conferencing products that utilize only a third of the bandwidth other systems require. PeopleLink products are of the highest quality, at the lowest bandwidth. In addition, the PeopleLink products are secure, affordable and reliable.
The main differentiator of PeopleLink is that you can get as many connections as the number of licenses you purchase, at the locations of your choice; PeopleLink video conferencing systems do not restrict the location. Say, if you have 10 licenses, you can connect 10 users from any 10 locations simultaneously and not any fixed locations.
PeopleLink offers a range of HD video conferencing software solutions and peripherals, audio conferencing phones, accessories and comprehensive sector-based video conferencing solutions.
Manasrekha offers the following video conferencing products