Products
HT-Vox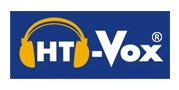 We are proud to present our in-house brand HT Vox, a registered trademark with Manasrekha. HT-Vox products are manufactured in Taiwan in accordance with FCC approved standards, and imported and reassembled in India. The state-of-the-art technology and stringent quality checkpoints employed during the manufacture and reassembly ensure that HT-Vox products are of the highest quality and reliability.
Manasrekha, registered with NSIC and SME, offers you the benefits of highest industry standard quality, full warranty, end-to-end services, and cost-effectiveness. Because we are available locally, we offer you the most comprehensive, ongoing services for our HT-Vox products.
We bring to you a wide range of high quality HT-Vox products, including CCTV products, Headphones, fully compatible OEM products, VoIP products, and Accessories, all at an affordable price. HT-Vox products are also available for export.
Authorised Partner of