Vertel is a renowned brand providing efficient walky-talky radios, radio base station and two-way portable radios.

Their high quality, secure and smooth working devices like the ULF radios and marine radios, are user friendly and durable. Their two-way portable radios are incorporated with open protocol signaling and thus are compatible with any other brand of products.

Designing and engineering is the core elements that has helped ICOM reach out to cater to the needs of Aviation, Land Mobile, Marine, and Wide-band Receivers.

A pioneer in the field of amateur radio, ICOM makes feature rich and user-friendly two-way radio portable, walky-talky radios, radio base station, UHF radio and marine radios. Based in Japan, ICOM is known for its cutting edge technology and usage of highly advanced equipment in the production process.

For over five decades, Vertex Standard has been the key supplier of walky-talky radios, two-way radio portable, and other communication solutions, for major businesses verticals.

The company is known to exceed customer expectations and provided finest devices for the business requirements.



HYT is a well-known brand in the field of professional two-way radio communications.

HYT has established strategic partnerships to provide some of the finest quality products to the customers at competitive prices. Since over 15 years, HYT has been continually working to manufacture exclusive and durable UHF radios, marine radios and walky-talky radios.

Established in 1946, Kenwood is one of the leading companies to operate in the field of communications equipment.

Being the world's second largest supplier of Land Mobile Radio equipment, Kenwood is constantly updated with newer technologies and looks forward for innovative ideas for their products.



The new Rexon RL308 is the result of two years R&D which has created a solid, well proportioned, hand portable which is similar in size and feel to the existing RL328. new raised collar design protects the on/off volume switch, whilst the raised channel selector makes changing channel a snip.

AM/FM
Roger Beep
Battery life indicator
Low/High power option
Automatic Squelch
Multi norms configuration
Powered by Lithium-ion long life battery

Radio over Internet Protocol, or RoIP, is similar to VoIP, but augments two-way radio communications rather than telephone calls. From the user's point of view, it is essentially VoIP with PTT (Push To Talk).

Motorola Canopy system provides unmatched single-to-multi and multi-to-single Wi-Fi communication, including voice and data for maximum flexibility in addition to several unique advantages, providing advanced infrastructure for enterprise-level communication.

Alvarion's award-winning product lines address the full range of wireless communications solutions from wireless broadband access to WiMAX and into 4G networks. Our products work together to create a complete, customizable 4G communications ecosystem enabling anytime, anywhere connectivity that starts today.

Whelen Engineering offer innovative and technologically advanced voice and siren warning devices since over 50 years.

Manasrekha is the authorized distributor of durable and tested products by Whelen. The company will provide technical assistance to Manasrekha for offering the best to our clients in terms of guidance and sales.

Paging Systems are wireless communication system specially designed for a one-way communication. HT-Vox presents state-of-the-art paging solution that spell efficiency, ease of usage and higher productivity. This user-friendly device helps in sending quick messages and eases down your communication worries where voice calls might not be desired (or possible).

Manasrekha introduces the pipeline inspection equipment.

This system is ideal for applications where pipelines need to be inspected regularly. It helps control the movement of the robot for detecting defects or other problems inside a pipe by transmitting real-time images from the inside of the pipe.

Manasrekha brings to you a wireless solution for schools, offices, etc.

Radio frequency identification (RFID) is a generic term that is used to describe a system that transmits the identity (in the form of a unique serial number) of an object or person wirelessly, using radio waves. This emerging technology will help in optimizing business processes and reduce operational cost.

Icom Digital Advanced System - The Time Is Now!

Icom presents IDAS, a digital land mobile radio system that uses the NXDN common air interface. The device offers hardware, accessories and a complete solution comprising of handheld radios, mobile radios, repeaters, network interface/trunking controller, IP-based virtual radio.

Voice over Internet Protocol and Radio over Internet Protocol are the latest modes of communication introduced in the market.

VoIP is a service that converts your voice into digital signals that can travel over the internet. It is a cost effective way of communicating over longer distances. RoIP interconnects standard two-way radios with an IP network such as the public internet. It converts a radio signal to digital data suitable for transport over the IP network and vice versa.

Paging Systems are wireless communication system specially designed for a one-way communication. HT-Vox presents state-of-the-art paging solution that spell efficiency, ease of usage and higher productivity. This user-friendly device helps in sending quick messages and eases down your communication worries where voice calls might not be desired (or possible).

Manasrekha is a one-stop shop for various kinds of hardware requirements across wireless technologies.

We are proud to present HT-Vox, our in-house brand, which provides a wide range of accessories in sync with your demand. These accessories are the perfect aid for your products. They include mic, Headphones, radio, chargers, adapters, etc.

Closed-circuit televisions (CCTVs) are video cameras mainly used for surveillance; they differ from broadcast televisions in that they transmit signals to a specific place or a limited set of monitors.

Voice over Internet Protocol (VoIP) is the technology of delivering voice communications over Internet Protocol networks like the Internet, instead of public switched telephone network (PSTN).

Video conferencing is a telecommunication technology by which a live video conference can be conducted simultaneously at two or more locations.

Multi-point video conferencing differs from videophone calls in that it serves multiple people at multiple locations, whereas videophone calls serve individuals in a one-on-one communication.

We are proud to present our in-house brand HT Vox, a registered trademark with Manasrekha.

HT-Vox products are manufactured in Taiwan in accordance with FCC approved standards, and imported and reassembled in India. The state-of-the-art technology and stringent quality checkpoints employed during the manufacture and reassembly ensure that HT-Vox products are of the highest quality and reliability.
Welcome to Manasrekha Enterprises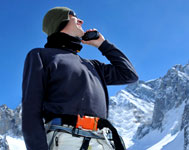 Manasrekha Enterprises is a leading radio and telecommunications equipment provider for a wide array of wireless two-way radios, transceiver, airband radios, marine radios, land mobile radios, AM/FM receivers as well as other high-end specialized communication equipments and accessories in India.
Manasrekha is an ISO 9001:2008 certified company with nearly two decades of experience in this space. Under the guidance of our founder, Mr. Chandan, we have successfully met challenging requirements for our clients in India, Australia, Africa and the Gulf region.
Services
Manasrekha Enterprises is known for its impeccable service sales and maintenance of UHF radios, two-way radios, marine radios and walky-talky radios.